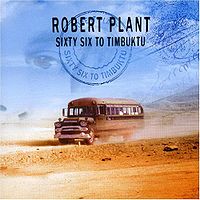 Sixty Six to Timbuktu (compilation)


Released: 11/4/2003 Peak:

134

27 Sales (in millions):

--

--
--

Tracks, Disc 1: 1. Tie Dye on the Highway 2. Upside Down 3. Promised Land 4. Tall Cool One 5. Dirt in a Hole 6. Calling to You 7. 29 Palms 8. If I Were a Carpenter 9. Sea of Love 10. Darkness, Darkness 11. Big Log 12. Ship of Fools 13. I Believe 14. Little by Little 15. Heaven Knows 16. Song to the Siren

Tracks, Disc 2: 1. You'd Better Run 2. Our Song 3. Hey Joe (demo) 4. For What It's Worth (demo) 5. Operator 6. Road to the Sun 7. Philadelphia Baby 8. Red for Danger 9. Let's Have a Party 10. Hey Jayne 11. Louie, Louie 12. Naked if I Want To 13. 21 Years 14. If It's Really Got to Be This Way 15. Rude World 16. Little Hands 17. Life Begin Again 18. Let the Boogie Woogie Roll 19. Win My Train Fare Home (live)

Review: "As it contains 35 tracks, it would be fairer to describe this as Robert Plant's greatest hits and misses. Listeners get the best of every solo album up to and including 2002's Dreamland, but the non-chronological running order also spotlights the schizophrenic nature of the music. At times, though, that's part of the fun. One minute, Plant's crooning through country bluesman Charlie Rich's Philadelphia Baby, the next he sounds like he's auditioning for New Order on Upside Down or singing some creepy trip-hop blues on Rude World. Listen out, too, for You'd Better Run, Plant's 1966 recording debut with the group Listen, and demos from his pre-Zeppelin outfit, Band of Joy." – Mark Blake, Q magazine, Sept. 2010, p. 133.