Review:
This "beautifully weird alt-rock touchstone" BL was "one of the most compulsively listenable college rock albums of the '80s." HP "The Pixies' angular guitar squalls, menacing bass lines and gripping dynamics made them the model for a decade of alt-rockers. Import-only at first, Surfer Rosa, [the Pixies' 1988 full-length debut], struck an ideal balance between Black Francis' demented rants and Kim Deal's melodic silliness, achieving sonic heights few Pixies imitators ever approached." BL
"Surfer Rosa fulfilled the promise of [the band's EP] Come on Pilgrim and, thanks to Steve Albini's production, added a muscular edge that made their harshest moments seem even more menacing and perverse. On songs like Something Against You, Black Francis' cryptic shrieks and non sequiturs are backed by David Lovering and Kim Deal's punchy rhythms, which are so visceral that they'd overwhelm any guitarist except Joey Santiago, who takes the spotlight on the epic Vamos. Albini's high-contrast dynamics suit Surfer Rosa well, especially on the explosive opener Bone Machine and the kinky, T. Rex-inspired Cactus." HP
"But, like the black-and-white photo of a flamenco dancer on its cover, Surfer Rosa is the Pixies' most polarized work. For each blazing piece of punk, there are softer, poppier moments such as Where Is My Mind?, Francis' strangely poignant song inspired by scuba diving in the Caribbean, and the Kim Deal-penned Gigantic, which almost outshines the rest of the album. But even Surfer Rosa's less iconic songs reflect how important the album was in the group's development. The 'song about a superhero named Tony' (Tony's Theme) was the most lighthearted song the Pixies had recorded, pointing the way to their more overtly playful, whimsical work on Doolittle. Francis' warped sense of humor is evident in lyrics like 'Bone Machine''s 'He bought me a soda and tried to molest me in the parking lot/Yep yep yep!'" HP
"In a year that included landmark albums from contemporaries like Throwing Muses, Sonic Youth, and My Bloody Valentine, the Pixies managed to turn in one of 1988's most striking, distinctive records. Surfer Rosa may not be the group's most accessible work, but it is one of their most compelling." HP
---
Review Source(s):
---
Related DMDB Link(s):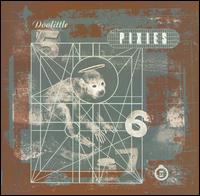 ---
Gigantic (live)
---

Click on box above to check out the DMDB on Facebook.
---
Last updated April 7, 2011.