Review:
This "Boston four-piece, fronted by singer Black Francis and anchored in every sense by bassist-vocalist Kim Deal, emerged in 1986" TM and became one of "the handful of bands that every '90s indie band worth its salt cites as an essential influence." PK Nirvana's "Kurt Cobain himself acknowledged the Pixies' influence on the soft/loud dynamic that powered 'Smells Like Teen Spirit.'" RS Like Sonic Youth, the Pixies "completely deconstructed the pop format, twisting basic surf guitar chord progressions into wholly original new forms…The results could be brilliant, but also occasionally distancing." PK
"After 1988's brilliant but abrasive Surfer Rosa, the Pixies' sound couldn't get much more extreme" AMG so on Doolittle the band "reins in the noise in favor of pop songcraft and accessibility." AMG "It's as though the band finished touring Surfer Rosa and realized that it was taxing work to bludgeon people for an entire evening." TM The result is "a more assured collection of songs" than the band's previous efforts AD as they "find a comfortable balance between angry distortion and some of the bounciest sunshine music this side of flower power." CS They are able to tap into "the band's earlier hardcore storms" RS and "Black Francis' self-described 'stream of unconsciousness' rants" RS but still display "enough killer guitar hooks and melodicism to keep it anchored." PK
"Producer Gil Norton's sonic sheen adds some polish, but Black Francis' tighter songwriting focuses the group's attack. Doolittle's most ferocious moments, like Dead, a visceral retelling of David and Bathsheba's affair – are more stylized than the group's past outbursts." AMG "There are still plenty of weird, abrasive vignettes" AMG such as "the blankly psychotic There Goes My Gun" AMG and "the nihilistic finale Gouge Away" AMG which "finishes things off with…stupendous vocal screaming." AD Crackity Jones is "a song about a crazy roommate Francis had in Puerto Rico" AMG which is supported by "demented guitars and trashing exactly when the album needed it." AD The Pixies "also expand their range on the brooding, wannabe spaghetti western theme Silver and the strangely theatrical Mr. Grieves." AMG
However, "the Pixies' arty, noisy weirdness mix with just enough hooks to produce gleefully demented singles" AMG and stabs at "relatively mainstream college pop-rock" PK such as on "the environmental-themed Monkey Gone to Heaven." PK That song has "seemingly touching lyrics that fail to make any sense." AD Both that and Hey "stretch Francis' lyrical horizons" AMG making for the "Pixies' versions of message songs and romantic ballads." AMG
There's also "the sweetly surreal love song La La Love You" AMG and "the irresistible" AMG and "straightforward jangly" PK single Here Comes Your Man. "Had The Pixies had enough of a public profile at the time, this could have been a huge hit for them." AD
Debaser "is the quintessential sound of The Pixies in full-flight." AD and the one which supposedly inspired "Smells Like Teen Spirit." PK "Inspired by [Luis] Bunuel's classic surrealist short Un Chien Andalou," AMG switches "between quiet and loud but…much more dramatically than anything they'd done before." AD It "is a nonstop barrage of lyrical imagery, tempo changes, and insane riffage, more or less the perfect Pixies track." PK "Guitarist Joey Santiago has said that this is the best single-song distillation of the Pixies experience" TM and, indeed, "the band plays as though this one song is its only shot at a manifesto." TM
Waves of Mutilation is the group's "surfy ode to driving a car into the sea," AMG That song and I Bleed "really cook while staying within the confines of traditional rock songs," PK although the latter, like Tame, continues "the Pixies' penchant for cryptic kink." AMG "Tame" sports Black Francis screaming with such passion, "it's a wonder he could even speak after recording it." AD
The "wide-ranging moods and sounds make it one of their most eclectic and ambitious. A fun, freaky alternative to most other late-'80s college rock, it's easy to see why the album made the Pixies into underground rock stars." AMG "It became one of those buzzed-about landmark records that traveled far on word of mouth. If you cared about rock noise in 1989, you needed to hear it. That's still true." TM
---
Review Source(s):
---
Related DMDB Link(s):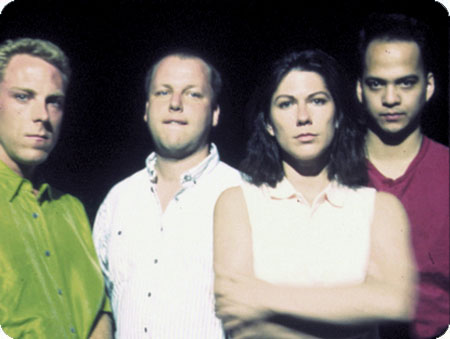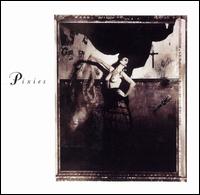 ---
Monkey Gone to Heaven
---
Here Comes Your Man
---
Debaser
---
Buy It!
---

Click on box above to check out the DMDB on Facebook.
---
Last updated April 18, 2012.