Review:
"Funkadelic's ultimate early classic" AZ "incorporates musical elements of psychedelia, rock, gospel, and soul music, with significant variation between each track." WK This lineup, helmed by George Clinton, also featured guitarist Eddie Hazel, keyboardist Bernie Worrell, rhythm guitarist Tawl Ross, bassist Billy Bass Nelson, and drummer Tiki Fulwood. It "is the heaviest rock album the P-Funk crew ever created." RS
The album "starts with a crackle of feedback shooting from speaker to speaker and a voice intoning, 'Mother Earth is pregnant for the third time, for y'all have knocked her up' and talking about rising 'above it all or drown in my own shit.' This..[was] utterly bizarre back in 1971 and it's no less so decades later; though the Mothership was well on its way already, Maggot Brain really helped it take off." NR
"The instrumental title track is the key reason to listen." NR Hazel's "lengthy, mind-melting solo" NR "is nothing short of stunning." AZ Clinton famously told Hazel "play like your mama just died." RS "The resulting evocation of melancholy and sorrow doesn't merely rival Jimi Hendrix's work, but arguably bests a lot of it. Accompanied by another softer guitar figure providing gentle rhythm for the piece, the end result is simply fantastic, an emotional apocalypse of sound." NR
"Maggot Brain is bookended by another long number, Wars of Armageddon, a full-on jam from the band looping in freedom chants and airport-departure announcements to the freak-out." NR It is a "bizarre mix of music and special effects-type sounds, and intelligent, though unusual and abstract, lyrics." WK The singer "demands immediate freedom from oppression as well as 'power to the people'." WK
"In between are a number of short pieces, finding the collective merrily cooking up some funky stew of the slow and smoky variety." NR Can You Get to That features "folky blues and gospel testifying." NR It "is a departure from the groove-oriented Funkadelic sound and is more of a traditional lyric-based acoustic rock piece." WK It is a rewrite of "What You Been Growin'", an earlier Clinton song with The Parliaments. It "is heavily influenced by gospel music stylistically." WK "One listen and a lot of Primal Scream's mid-'90s career is instantly explained." NR
"Super Stupid is a particular killer, pounding drums and snarling guitar laying down the boogie hard and hot." NR It "refers to a drug addict who buys the wrong drug accidentally." WK The verse implements rapping over a drum rhythm alongside occasional guitar chords such as heard on Jimi Hendrix's "Crosstown Traffic." WK
"Hit It and Quit It has a great chorus and Bernie Worrell getting in a fun keyboard solo to boot." NR There's also another extended guitar solo from Hazel at the end.
Some claim that You and Your Folks, Me and My Folks is a sequel to "Hit It and Quit It." It is a "very class-conscious song" WK with "wry but warm reflections on interracial love." NR The singer pleads for "unity among the poor because without doing so, equality could not be achieved." WK Its "drum hits [are] distorted to give a weird electronic edge to the results." NR The refrain is similar to a folk rhyme first published in Thomas W. Talley's 1922 Negro Folk Rhymes (Wise or Otherwise). WK
---
Review Source(s):
---
Related DMDB Link(s):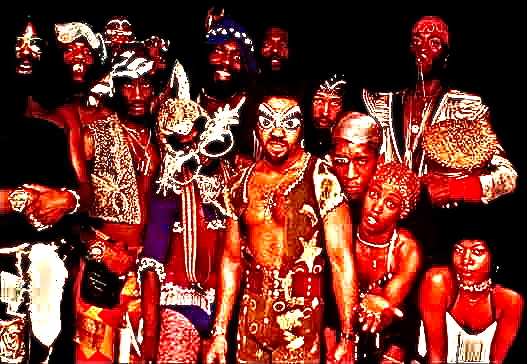 ---
Maggot Brain (Eddie Hazel and Michael Hampton live, 1983)
---
You and Your Folks, Me and My Folks (audio only)
---
Can You Get to That (audio only)
---

Click on box above to check out the DMDB on Facebook.
---
Last updated August 6, 2011.